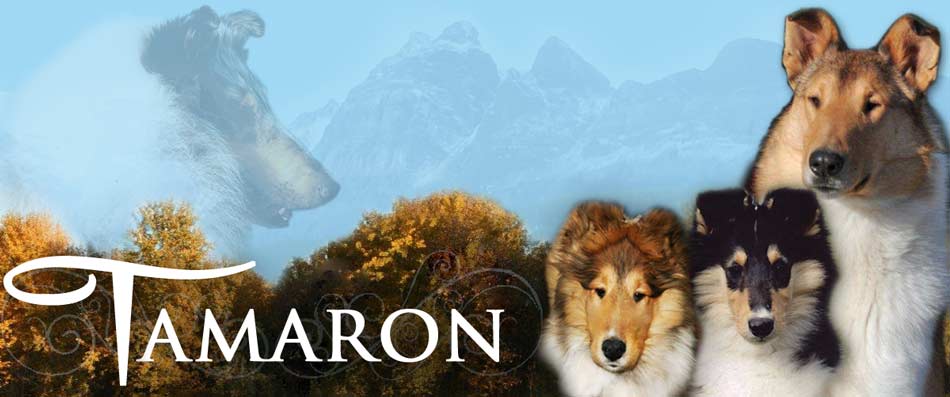 This questionnaire serves the purpose of helping us become better acquainted with the people inquiring about our Collies. It serves to present us with a more complete picture of what you are looking for in a dog and to help us match you, as a potential buyer, with a dog that will ultimately turn out to be what you are looking for. This questionnaire in no way constitutes a contract on our part that there will be an collie puppy available for you, nor do your responses serve as the sole determinant of whether or not a collie puppy will be offered.
Also there are no right or wrong answers!

Although we will always keep in mind the color preference of our puppy buyers we DO NOT place our pups in homes based solely on color choice. Puppies are placed based on a wide variety of things including temperament and suitability. If you are interested in a puppy from an upcoming litter we recommend you complete our questionnaire and speak with us (via phone, e-mail or in person) after that. When we have a litter planned we will notify you and we will request a deposit from people interested in a pup. A deposit ensures ONLY that you will be considered as a prospective home and we reserve the right to choose not to place a puppy in a prospective home at any time or for any reason. Our first consideration is the safety and well-being of our puppies, from the day they are conceived until the day (hopefully long in the future) when they pass on.

Click below to download our puppy application

We have a very exciting litter coming August 2022!

Our stunning sable smooth girl, BISS Ch. Tamaron's Calamity Jane, CJ, (Can GCh. Cardoness the Bucaneer x Tamaron's Heartbreak Hotel) has been bred to our beautiful tri rough male Ch. PrairiePine Tamaron's Genesis, Adam, (AM GCHG Southland Aurealis Island Nights, ROM x Can GCH Afterhour's Diamond In the Rough at VanIsle) who came to us as a 3 month old puppy through the generosity of Susan Minard (PrairiePine Collies) and Val Marshall (Vanisle Collies).

Adam traveled to the American National in Utah in April when he was only 8 months old. There he won his 6-9 month AOC class under judge Adria Weiner (Edenrock Collies) and went on to be pulled for Winners! Adam finished quickly in Canada with multiple Best Puppy in Group wins.

CJ did some nice winning as a puppy including WB and Best Puppy in Breed under breeder judge Robette Johns at the Canadian National. She was then put away to grow up and wasn't shown again until Oct 2019 when she was 3.5 years old. CJ finished in 2 weekends with many breed wins and 2 group placements. She was also Best of Breed at the ASSCA Specialty in Calgary her first time out as a Special.

Many of our puppies, especially smooths, have been trained as service dogs and have been amazing at their jobs!

Both rough and smooth puppies in tri and sable are expected in this litter.
Inquiries welcome and promptly answered.