(Ch. Blossom Hill Cutting Edge, HIC x Am-Can Ch. Cassori Touch The Heart)

Kennedy is a tri factored sable merle smooth that stamps his head qualities and movement on his puppies!! His near flawless head helped him to win BOV Smooth and BPISS at the Canadian National in 2007 at the age of only 11 months. He then went on to win his class at the American National in Springfield, Mass. in March of 2008 and was pulled for WD out of 42 males. Kennedy finished his American championship in only 8 days, undefeated in the classes, with 4 BB wins over Specials and also 4 BOS wins over Specials. In Feb of 2009, he won his second Specialty the ASSCA, under judge Barry Hastings. In April of 2009, at the American National, he made the first cut in the Specials ring, then placed 3rd in the HUGE stud dog class with his 2 baby daughters to represent him. This dog has it all! He has won in both the Specialty rings and the all-breed rings, proving he appeals to all judges.

Kennedy was shown lightly in Canada in 2009- a few weekends in the spring and a few again in the fall where he was awarded 3 group 1ís, 6 group 2ís, 3 group 3ís and 5 group 4ís which was enough to place him # 1 SMOOTH COLLIE IN CANADA!!!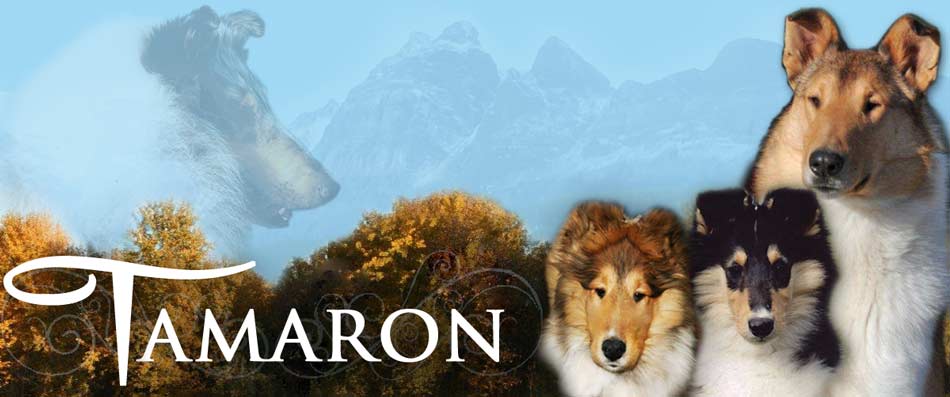 NBIS, multi NBOV, multi BIS Am/Can Ch. Tamaron The Real Deal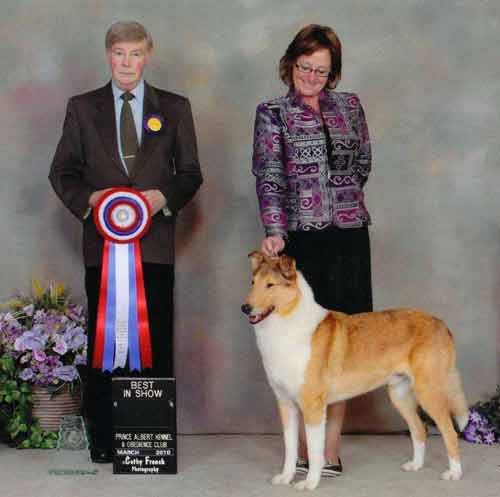 Kennedyís second litter was also born in August of 2009 courtesy of Ch. Blossom Hill Tamaronís Promise (Jasmine). There were 3 boys, 1 smooth and 2 roughs. The smooth Howie (Ch. Tamaronís Deal Or No Deal) is co-owned with Kelly Anthony who now has 3 Tamaron Collies. Check out Howieís show record under his profile. The sable and white rough, Ryder (Tamaronís Deal Me In) is here at Tamaron. The sable merle rough boy Monte (Tamaronís Letís Make a Deal) is co-owned with Renee Holtkamp of RainyCreek Collies.

2010 started off with a bang with Kennedy winning his second consecutive ASSCA Specialty BB under judge Mike van Tassel in February and then a week later winning the Canadian National BOV for the second time!!! This win was under judge Barry Hastings. At his second all-breed show of the year, Kennedy won BEST IN SHOW under judge Leslie Rogers who said ďyou will go a long time before you see another smooth as nice as this!Ē. Kelly and I traveled to sunny, hot California in March for the CCA National. Kennedy was very well received by fellow breeders and again placed in the very competitive Stud Dog class.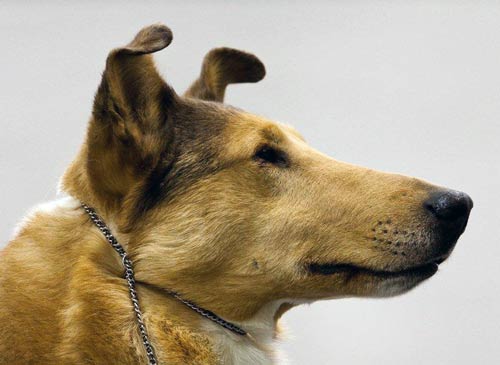 Kennedy finished 2010 as Canada's # 1 Smooth for the second year in a row.


A repeat breeding was done to Ch. Blossom Hill Tamaronís Promise (Jasmine) and on June 26, 2010 a singleton sable rough girl was born. She was named Promise right from day one, Tamaronís Promise Me, and will have a very important place here at Tamaron.

Inquiries welcome!

Regíd Name: Am/Can Ch. Tamaron The Real Deal
Call Name Kennedy
Color/Type Sable Merle Smooth
SexMale
Sire Ch. Blossom Hill Cutting Edge, HIC
Dam Am/Can Ch Cassoriís Touch The Heart
DOBOctober 29, 2006
Reg # Can: SU136067
US:DN21097801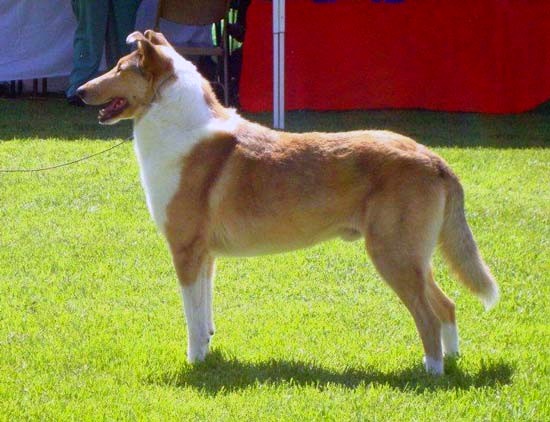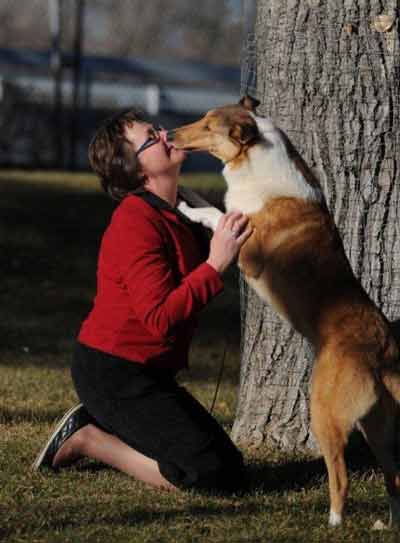 Click below to see more pictures